There it sat upon my bookshelf, mocking me in the same way other books I'd intended to read but hadn't yet gotten around to had done in the past. "What's the matter lad, reading stream of consciousness sound more craic than the reality of plodding through it?" barked my copy of Joyce's Ulysses. "You like Monty Python and the Holy Grail so much, when are you going to pick me up and learn about the real thing? You're one remarkable would-be student of history, Stephen" scolded historian Barbara Tuchman from the binding of A Distant Mirror: The Calamitous Fourteenth Century. Then they formed an evil axis with a book on a shelf across the room, Greil Marcus's rather astounding study of the roots of Bob Dylan's Basement Tapes, titled Invisible Republic (Picador, 1997) and perfectly re-titled The Old, Weird America in 2011.
While I did end up digesting the former two works, the Marcus volume, much briefer and presumably about a topic I'd be more readily enthusiastic about, remained with a bookmark about 95 pages in. I think at the time I originally picked it up I was more interested in a chronicle of Dylan and the group soon to be known as the Band's time at Woodstock in the fall of 1967 as they recorded mostly in the basement of the house known as Big Pink. This book ain't that. With my first attempt I thought this Greil Marcus guy was kind of full of himself, to the point of feeling pissed off because I had difficulty following him. There's a ringing endorsement of the author and this book by His Bobness right there on the cover, so why am I not "getting it?"
I'm not a fast reader, but I've been reading a lot during this rather bizarre moment in our future history, mostly music-related topics. While waiting for my next selection to be delivered by an omnipresent Amazon van and not ready to jump back to fiction, it dawned on me that this is a perfect time to dig back into The Old, Weird America while giving a closer listen to the Basement Tapes, expanded since my first attempt at reading this book as part of the Bootleg Series (I bought the two-disc highlights set when it was released in 2014, which I thought at the time was more than I would ever want to hear of those interesting but sonically poor and hard to understand songs.). I knew better what to expect this time around, and it synced perfectly with the other books I'd recently read on the musical and cultural history of the blues in the Deep South.
We see little mention of Dylan after about page 85. The majority of the book discusses various aspects of American cultural history from the Puritans to 1920's Appalachia, including the West Virginia Mine War of 1920-21 to moonshiners and gangsters and those who wrote and sang songs about it all. Specifically those whose songs were originally issued from 1926-1933, and were assembled by collector and self-taught anthropologist Harry Smith on his enduringly important six album, 84 track Anthology of American Folk Music (1952) which became a major resource during the American folk music revival of the 1950's and 60's. Some of these long lost performers were rediscovered – in some cases searched for and found after decades of obscurity – and put on stage at Newport in the early/mid 60's.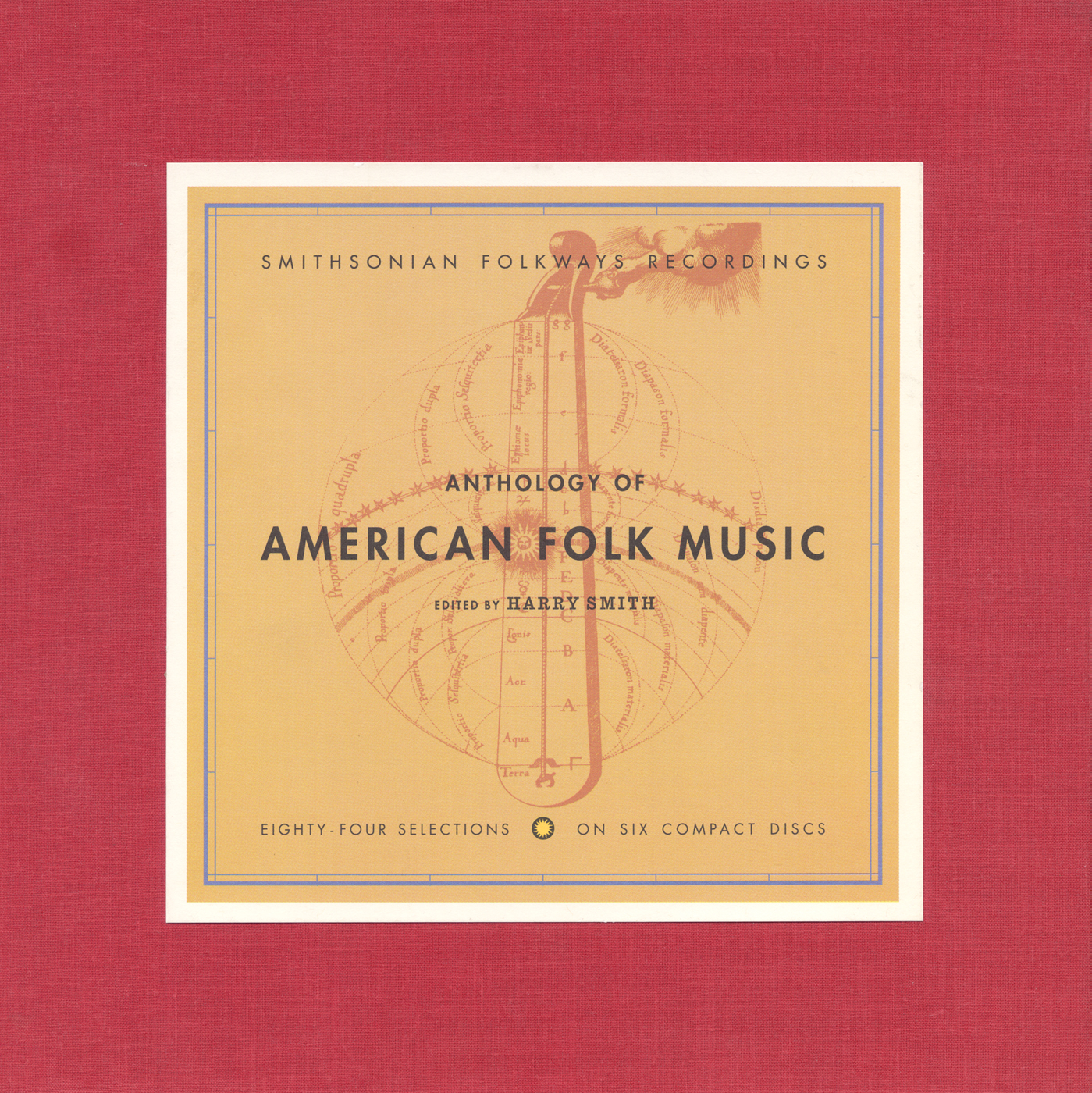 I'd never heard of most of the artists on the Anthology who were given biographical treatment by Marcus, folks such as Dock Boggs, Buell Kazee, and Frank Hutchison. He doesn't have much to say about the ones I had heard of, including the Carter Family, Mississippi John Hurt, Charlie Patton, and Blind Lemon Jefferson. I don't own the Anthology, but being able to dial up on YouTube any of the songs mentioned made this a fun and fascinating experience. The point of it all, of course, was that Dylan had heard of them, and ultimately incorporated their themes, fragments, and reworkings of whole songs along with his and the Band's own originals – all maintaining that old, weird vibe – into what would come to be known at the Basement Tapes. The vibe is one of lives in poverty, of lawlessness and survival, and the masks worn by such a society in hardscrabble times and places which made up the Invisible Republic or Old, Weird America. The characters seems tragic, but Marcus explains that they aren't since there's an absence of guilt or shame in how they lived. It's all they knew.
Marcus describes the 78 rpm recordings made by early 20th century banjo pickers and blues men (and women: check out Geechie Wiley's haunting blues linked at the bottom of the page) as a "democratic event" because they gave a voice to those Americans who weren't previously heard. Those voices were thrust back into the national consciousness during the Civil Rights Era as they were heard on college campuses and at festivals (as seen on Murray Lerner's Festival!, which documents the Newport Folk Festivals from 1963-66). Critical to the topic at hand, Bob Dylan, a cultural icon from the 1960's-onward, is old enough and was in the right place to witness personally the last musical citizens of the original Old, Weird America, and in him they found a major new champion of their tradition.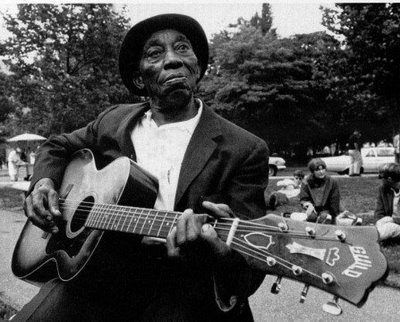 The Basement Tapes are his and the Band's interpretation of that world, a time and place that are the origin of song characters and titles such as Stagger Lee/Stagolee/Stacker Lee, Frankie and Albert, Casey Jones, John Henry, the Coo-Coo/Cuckoo Bird, etc. Dylan's Clothesline Saga, a song where we don't really find out what has happened, just that something probably really bad has happened, I learned was an answer to Bobby Gentry's 1967 hit Ode to Billie Joe, a song I hadn't really paid much attention to but which I discovered to also be constructed in the spirit of that old time and place after a ten minute trip down that rabbit hole. The recordings also spawned the bootleg industry as it came to be known. Dylan originally made the recordings for the purpose of giving them to other artists to do proper recordings of, which they did. But this only increased the demand of his hardcore fans for the originals, rough as those recordings were. Thus the first major bootleg release, The Great White Wonder.
There was a spooky alchemy that took place with Dylan and the Band in Woodstock in late '67/early '68, and to me the context is simply surreal. Just a year prior, he was an amphetamine fueled, checkered skinny suit wearing rock star who had recorded two of the greatest albums of all time in Highway 61 Revisited and Blonde On Blonde, who went to battle every night against much of his so-called folk purist audience in the U.S. and Europe, burned out, crashed his motorcycle, took a breather, and re-emerged with a completely new sound and, yes, appearance, first in the "Red Room" of his Woodstock house, then in the basement of Big Pink. All at a time when his contemporaries had gone psychedelic, even the Rolling Stones.
Besides on the Basement Tapes, that modern version of the Invisible Republic or Old, Weird America can be heard on Dylan's next official recording, John Wesley Harding, as well as the first two albums by the Band, Music from Big Pink and the self-titled album. From there it blossomed into what we today call Americana. It's really that big of a deal. Visually it can be seen in basically every one of those great photos – black & white and color – taken at Woodstock with Dylan and the Band by Elliott Landy. It's in the clothes they wore and the way they posed for pictures.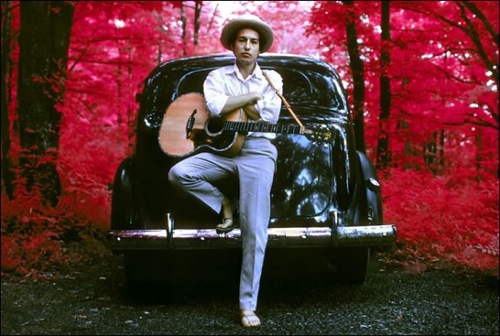 It's also evident in the setting of Richard Gere as Billy the Kid's portion of Todd Haynes's 2007 biopic I'm Not There, based on Dylan's various personas over the years. Further, Dylan and the Band were a major influence on George Harrison and Eric Clapton. Think about that: It can be argued that Dylan and the Band's residence and output at Woodstock played at least a small part in the breakups of the Beatles and Cream (or at least sped up the inevitable). This stuff is a bottomless pit I'm happy to get lost in, and now that I've made it through Greil Marcus's book I'm going to read the one I probably meant to find the first time around, Sid Griffin's Million Dollar Bash: Bob Dylan, the Band, and the Basement Tapes.
Some crumbs, if you've read this far:
-I wasn't aware that the Basement Tapes as finally officially released in 1975 contains quite a bit of added overdubbing to make the tracks more commercially appealing.
-It turns out I really do like these songs, crudely recorded as they may be.
-I just watched the documentary Once Were Brothers: Robbie Robertson and the Band on Prime. Whether you're a Robbie person or a Levon person (or neither), it's very well done.
And from the "it all ties together" files:
-I recently read Alan Lomax's book on the origins of the blues (The Land Where the Blues Began), and in the Marcus book it's mentioned that it was Lomax, along with Pete Seeger, who attempted to cut the electric chords when Dylan plugged in at Newport in '65, and,
-Regarding that crazy Dylan 1966 tour of the UK when Levon had quit before they left because he didn't want to deal with the hostility every night and was replaced by Mickey Jones: Last night my wife and I revisited National Lampoon's Vacation, which, like many of my generation, I have seen numerous times. I hadn't in a long while, and I noticed during one scene that a bit part actor strongly resembled either any number of folks I've seen in the news lately spewing saliva at medical mask wearing cops in the continuing scenes from our current Bizarro World, OR Mickey Jones. Sure enough, it was Mickey Jones.
Whew! Thanks for reading. Really.
-Stephen
https://en.wikipedia.org/wiki/The_Basement_Tapes
https://en.wikipedia.org/wiki/Greil_Marcus
https://en.wikipedia.org/wiki/West_Virginia_coal_wars
https://en.wikipedia.org/wiki/Invisible_Republic
https://en.wikipedia.org/wiki/Anthology_of_American_Folk_Music
https://en.wikipedia.org/wiki/Great_White_Wonder