5/23/70: The Who – Live at Leeds
Inching toward summer 1970, The Who released what is still widely considered the greatest live rock album of all time (with all due respect to fans of live albums by Humble Pie, the Stones, Frampton, Cheap Chick, Deep Purple, and others), and one of the best rock albums, period. The band recorded several shows on tour supporting 1969's Tommy, but 2,100 capacity Leeds University Refectory and Hull City Hall were booked in February specifically to record a live album.
Live at Leeds was originally planned as a double album to include the Tommy set, but of the 33 songs performed in the show, Pete Townshend decided on a single, six-song release, with snippets of See Me, Feel Me and Sparks from the 1969 rock opera heard in the stretched out version of My Generation at the beginning of side two. Clocking in at just over 37 minutes as originally released, Live at Leeds captures the frenetic energy and violence of The Who's live performances arguably at the band's live peak.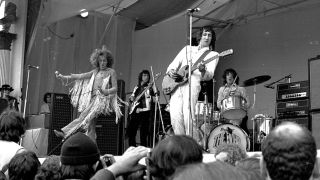 Over the course of four reissues in the following 40 years, Leeds went on to include the Tommy set, the complete Hull show from the following night, and finally the entire Leeds show in correct running order for the first time. I actually owned the Live at the Isle of Wight Festival 1970 release from 1996 before I ever gave a serious listen to Leeds, and without wading into the audiophile muck of production pros and cons that largely don't interest me, I don't feel there's too much difference in the feel of the album aside from the fact that the Isle of Wight release contains Tommy.
The trend over the years of adding previously unreleased material, live or studio, when reissuing albums is something that has been interesting, exciting, and maddening. I've reached the point where expanded reissues are no longer automatic must haves. I've come around on originals prior to the add-ons. Live at Leeds in its original form is great for those occasions when you want to crank up some live Who to get yer ya-ya's out but don't necessarily want to listen to Tommy, which has its time and place for me.
What's your favorite live album of all time of any genre? Do you value expanded reissues?
Tracklist
Side A:
Young Man Blues
Substitute
Summertime Blues
Shakin' All Over
Side B:
My Generation
Magic Bus
-Stephen
https://en.wikipedia.org/wiki/Live_at_Leeds
https://en.wikipedia.org/wiki/Live_at_the_Isle_of_Wight_Festival_1970_(The_Who_album)