9/23/70: Simon Finn – Pass the Distance
"Madness" "…songs unravel lysergically" "sinewy guitar" "snarling vocals" "catharsis" "raw merriment" "hypnotic" "nocturnal" "nightmarish" "creepy" "beautiful" "poetic" – These are some of the words I've come across in reviews of Simon Finn's Pass the Distance. I'll go ahead and add "harrowing" to the list. This is a bit of an unorthodox blog entry for me, as Pass the Distance is not a well known album, not by yours truly, anyway. But it's really quite fascinating to listen to at least once, maybe twice if you enjoy staring over a ledge into the abyss.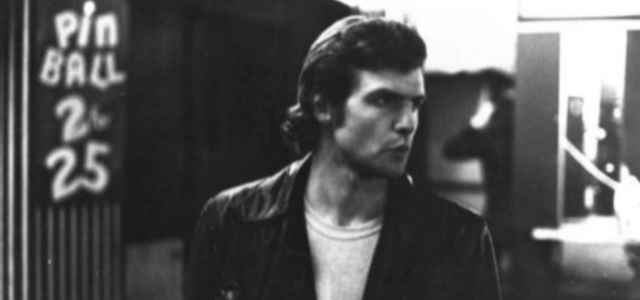 I discovered this album for myself sometime in the last ten or so years, and if I didn't find it in the suggested music column on YouTube then I have no idea how I learned of it. In the spirit of Skip Spence's Oar meets Syd Barrett and maybe Tim Buckley's more experimental albums, this one is "out there," a quintessential cult album. I've come across a couple of dates given as its release date, including 50 years ago today, so today it is.
Finn made his professional debut opening for Al Stewart at London's Marquee Club in 1967, but spent the following two years busking and updating share prices on the London Stock Exchange's blackboard until presented with the opportunity to record this album with David Toop on guitar and Paul Burwell handling percussion. Besides love and sex, he places heavy focus on Christian themes, redemptive and otherwise. The feature track is titled Jerusalem, in which he equates the Crucifixion with the ideals of the 1960s counterculture. He's calling out the hypocrites, and there are many. Indeed, if you're going to sample one song on this album, check out Jerusalem.
As Finn shared with a journalist in 2004, "The songs were about alienation and loneliness. Jerusalem came to me in one shot. I wrote it on mescaline and was playing it over and over and one of my flatmates wrote it down." Due to legal issues the album was withdrawn from circulation in the early 70's, and Finn relocated to Canada where he disappeared from the music scene completely. He taught karate before taking up organic farming, unaware that Pass the Distance had become a cult classic until it was remastered/re-released in 2004, after which he performed the album on stage on a handful of dates. He has since released a few more albums and toured with Current 93, Graham Coxon, Thurston Moore, and others.
Tracklist
Side One:
Very Close Friend
The Courtyard
What a Day
Fades (Pass the Distance)
Jerusalem
Side Two:
Where's Your Master Gone
Laughing 'Til Tomorrow
Hiawatha
Patrice
Big White Car
Simon Finn – Pass The Distance LP
https://www.allmusic.com/album/pass-the-distance-mw0000636661#:~:text=Pass%20the%20Distance%20is%20not,and%20strange%2C%20oblique%20love%20songs.