6/12/70: Rod Stewart – Gasoline Alley
Rod Stewart, including his work with Faces, is another example of an artist from rock's late 60s-mid-70s era whose greatness I've bemoaned – probably ad nauseam – as not appreciated as it should be in the 21st century as a result of dumbed-down corporate classic rock radio, not to mention his own chosen musical direction in later years. That's not to say the man has suffered; he's done quite well for himself in later incarnations as disco Rod and Great American Songbook crooner Rod. Thankfully we can turn directly to the albums for a nice reminder of how good those early releases are, start to finish. Stewart's second solo album, Gasoline Alley, turns 50 today.
This album, along with his other early solo works, is a consistent blend of folk, blue-eyed soul, country rock, and straight forward rock, mostly with sparse arrangements. All of his Faces bandmates – Ronnie Wood, Ronnie Lane, Ian McLagan, and Kenny Jones – contribute to this album, just as some if not all of them would participate on Stewart's other early solo albums. Gasoline Alley features powerful bass lines by Ronnie Wood and Ronnie Lane, heavy though not overplayed drums by Mick Waller and Kenney Jones, barrel house piano work by Ian McLagan and Pete Sears, and guitars by Wood and Martin Quittenton. These sounds are augmented with just the right touches of violin (Dennis O'Flynn, Dick Powell) and mandolin (Stanley Matthews).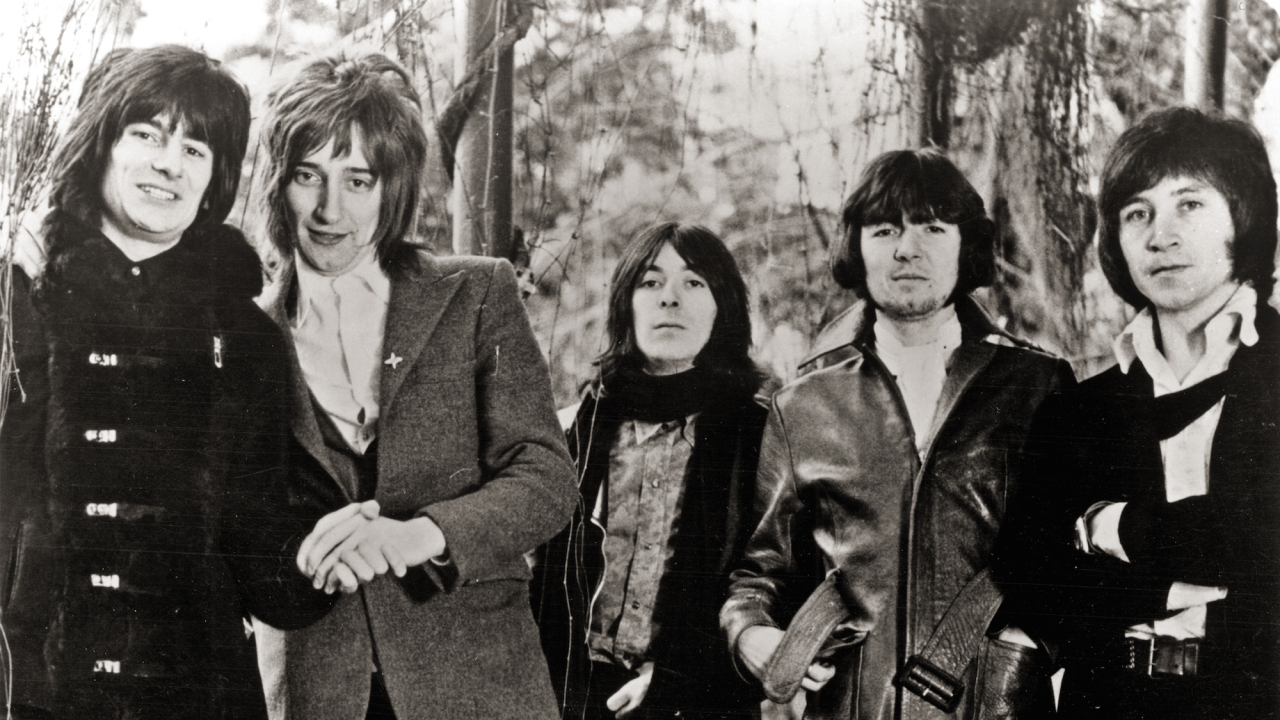 Langdon Winner, in his September 1970 review of the album in Rolling Stone, interestingly compared Gasoline Alley and Stewart's debut album favorably to The Band's Music from Big Pink for its country rock, or what we now call Americana, flavor. That had never occurred to me, and I don't disagree. Six of the nine songs are covers, but they all sound like Stewart made them his own. His cover of Bobby and Shirley Jean Womack's It's All Over Now is more raucous than the Stones' version, and dare I say nearly as soulful as the original Valentinos version featuring Womack. His take on the Small Faces' 1967 song My Way of Giving would've fit in even "way back" in psychedelic '67 just as it did in '70. Stewart's version of Elton John and Bernie Taupin's Country Comfort appeared four months before Elton's, and his rendition of Dylan's Only a Hobo was released 21 years before the original. Bob originally recorded the song in late 1962/early '63 but left it off The Times They Are a-Changin'. It would eventually appear on The Bootleg Series Vols. 1-3 (Rare and Unreleased) in 1991. There were no singles from Gasoline Alley, but it still reached 27 on the pop charts.
I'll stop short of suggesting Rod Stewart hasn't been given his due when it comes to being a great rock interpreter of others' originals because maybe he has. I will say that I didn't realize it for myself until I listened to these albums all the way through. It's something that I had never really considered perhaps due to Stewart's image in my mind based upon growing up hearing songs such as Stay with Me and Hot Legs, whether singing his own songs or interpreting others'. By image I of course mean that of the rock front man diva. I can listen to this and his other early albums and hear them for their musical qualities alone. He belts out the vocals when needed, but there's a sincere, gravely warmth in his singing on tracks such as Only a Hobo, Lady Day and Jo's Lament, the latter two being Stewart originals. Again from Winner in his 1970 Rolling Stone review:
The music of Rod Stewart helps us to remember many of the small but extremely important experiences of life which our civilization inclines us to forget. Compassion. Care for small things. The textures of sorrow. Remembrance of times past. Reverence for age. Stewart has a rare sensitivity for the delicate moments in a person's existence when a crucial but often neglected truth flashes before his eyes and then vanishes. The amazing character of Stewart's work is largely due to the fact that he can recall these fragile moments of insight to our minds without destroying their essence.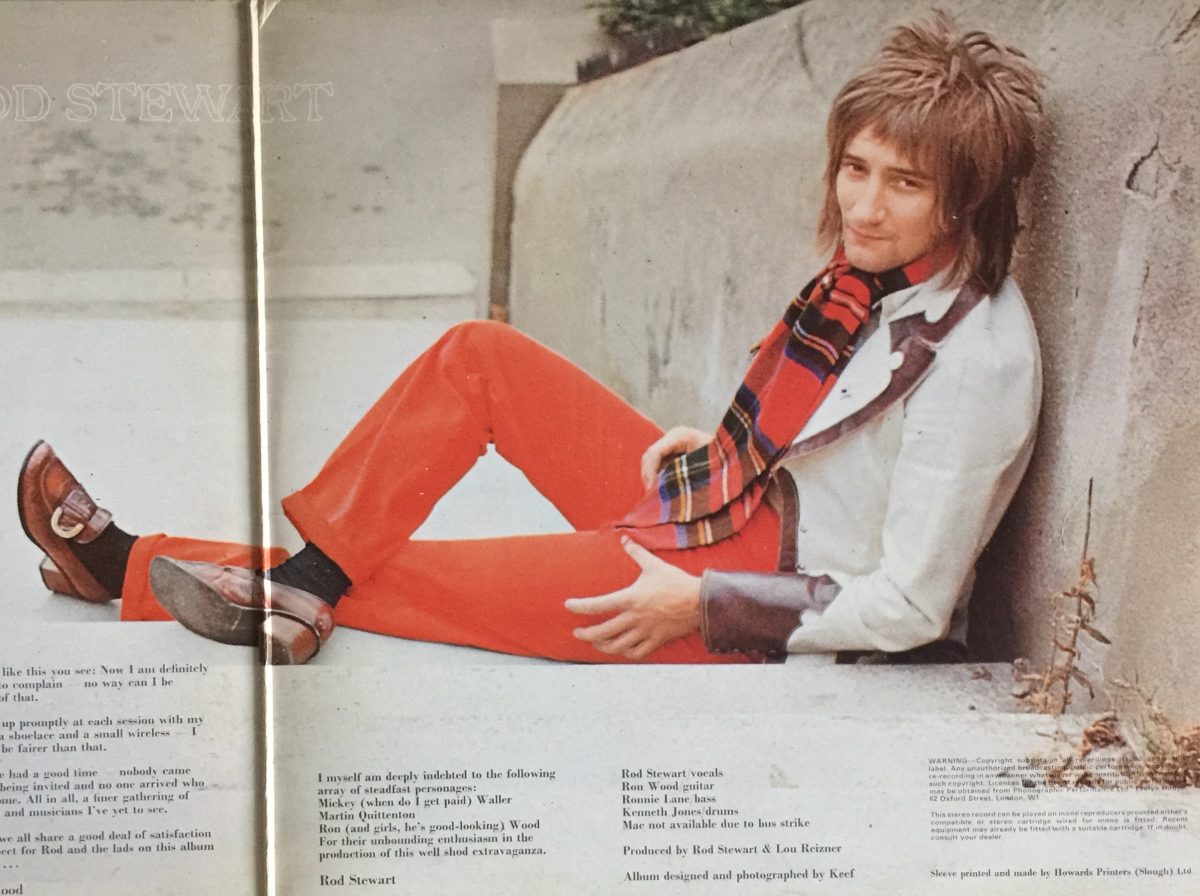 An Ultimate Classic Rock 45th anniversary retrospective review refers to his cover of You're My Girl (I Don't Want to Discuss It) as the only "clunker," but even that track is worth a listen for Ronnie Lane's driving bass alone. I suppose if there's a weak link on this album to my ears, it's Country Comfort. I hear Elton's version on Tumbleweed Connection a few months down the line as being a fuller, more realized rendition. I'm not breaking any news here, but Stewart's recorded vocal output between 1969-1973 is remarkable by any standard. For my own perspective I listed the four solo Rod Stewart and four Faces releases – all widely considered good/great – over a period of three years and four months in chronological order. I'll just leave it:
Stewart – An Old Raincoat Won't Ever Let You Down (a.k.a. The Rod Stewart Album) – 11/69
Faces – First Step – 3/27/70
Stewart – Gasoline Alley – 6/12/70
Faces – Long Player – 2/71
Stewart – Every Picture Tells a Story – 5/28/71
Faces – A Nod is as Good as a Wink…to a Blind Horse – 11/17/71
Stewart – Never a Dull Moment – 7/21/72
Faces – Ooh La La – 3/73
How would Faces be rated in rock's pantheon if Stewart's first four solo albums had been official Faces albums instead?
Tracklist
Side One:
Gasoline Alley
It's All Over Now
Only a Hobo
My Way of Giving
Side Two:
Country Comfort
Cut Across Shorty
Lady Day
Jo's Lament
You're My Girl (I Don't Want to Discuss It)
-Stephen
https://en.wikipedia.org/wiki/Gasoline_Alley_(album)
https://www.allmusic.com/album/gasoline-alley-mw0000650828
https://ultimateclassicrock.com/rod-stewart-gasoline-alley/
https://en.wikipedia.org/wiki/Rod_Stewart#1969%E2%80%931975:_Solo_career_established_and_Faces_albums