I'm participating in an album draft with nine other bloggers, organized by Hanspostcard. There will be ten rounds (though rumors abound of three bonus rounds), with draft order determined randomly by round. Deciding what albums to choose has become increasingly difficult over the past few rounds, and now it's down to one. With apologies to solo McCartney and Lennon, Van the Man, Miles, Coltrane, Croz, Elton, U2, Sinatra, David Freaking Bowie, and many others – hell, I even considered the first Van Halen album as a tribute to the late, great Eddie – I've decided on a Bob for my second pick in a row. This time it's the Marley varietal. The deciding factor? I'm going to an island. I'll want some reggae.
Bob Marley was long gone before I actually heard him sing. I vaguely remember hearing Clapton's version of I Shot the Sheriff when it was current, but don't recall hearing Marley's name or even the word "reggae" until the early 80's. I grew up in a small midwestern town, and other than university towns the genre didn't make inroads there until the mid/late 80's. I'd read his name in Rolling Stone various times throughout that decade before finally buying Legend around 1986. I loved it instantly and began collecting Marley albums. If I had one shred of hip cred in high school (which is definitely a stretch), it's a result of introducing reggae to some of my small burg high school mates. I even got Could You Be Loved played at a school dance. Big time, folks. It's funny looking back at my mulleted self – I only knew about Marley, Jimmy Cliff, and UB40. So hip.
Marley released albums that are more legendary than Live at the Roxy. In fact, this album – simulcast live on L.A.'s KMET on May 26, 1976 and heavily bootlegged as a result – wasn't officially released until 2003. But I like live reggae the most, and this show is legendary. It was a VIP event, and as Robert Hilburn noted in his LA Times review of the show, it was attended by John Lennon, Ringo Starr, Neil Diamond, Robbie Robertson, Bernie Taupin, John Bonham, Linda Ronstadt, Harry Nilsson, Carole King, Art Garfunkel, Jack Nicholson, Warren Beatty, and others. To have been a fly in the club, floating around from table to table on clouds of ganja smoke… (Side note: the famous backstage photos of the brief Marley/George Harrison summit were taken at the Roxy the previous year.)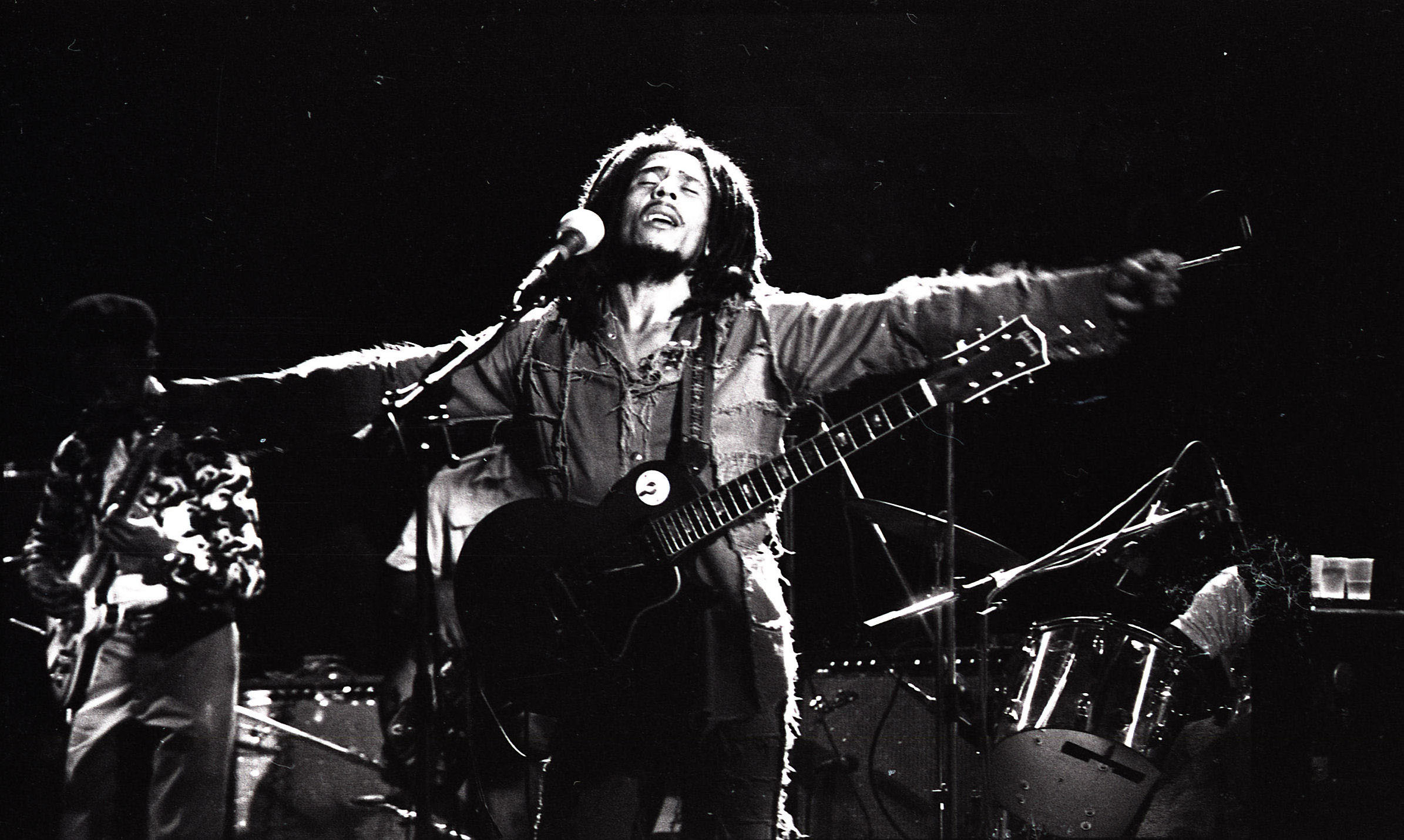 If you like Marley then you probably know most if not all of this music. The recording itself sounds like it was done from my living room. You can sense the intimacy of the performance, delivered in its entirety on this release. The highlight for me is the second disc which contains the encore: a 24 minute medley of Get Up, Stand Up/No More Trouble/War. Relevant as ever, though I must admit I look forward to a day when I can return to listening to these songs without thinking too much about the message.
Tracklist
Disc 1:
Intro
Trenchtown Rock
Burnin' and Lootin'
Them Belly Full (but We Hungry)
Rebel Music (3 o'clock Road Block)
I Shot the Sheriff
Want More
No Woman, No Cry
Lively Up Yourself
Roots, Rock, Reggae
Rat Race
Disc 2
Positive Vibration
Get Up, Stand Up/No More Trouble/War
-Stephen
https://en.wikipedia.org/wiki/Live_at_the_Roxy_(Bob_Marley_and_the_Wailers_album)
*Note about the following link: it is a wordpress post which contains a link to the Robert Hilburn/L.A. Times review of the concert. I was unable to post that link to the review for some reason.
https://marleyarkives.wordpress.com/2012/02/18/bob-marley-and-the-wailers-go-hollywood-roxy-1976/