I'm participating in an album draft with nine other bloggers, organized by Hanspostcard. There will be ten rounds, with draft order determined randomly by round. With the third pick in round three, I've selected one of my favorite Springsteen albums.
What is it about Bruce Springsteen's music that has earned him one of the largest and most loyal fan bases on the planet? I don't know the first thing about cars, auto mechanics, or racing. I never worked in a factory or a car wash or on a highway. I never had and lost a job at a lumber yard or slept in an abandoned beach house or in a car because I had nowhere else to go. I never stood in a filthy phone booth for hours on a freezing night talking to my girlfriend until I thought it was safe to go home and face my father. I never ran from a state trooper. I know nothing of life growing up in a coastal town adjacent to once great but now failing boardwalk communities. However, I do possess deeply rooted feelings about friendships and family, past and present. I'm for respecting basic human rights and dignity, and for people having a fair shot in life. I'm for the underdog. I do enjoy the open road, and oh yeah, I love good music. Bruce Springsteen, with and without the E Street Band, checks all those boxes, and I'm happy to be able to add one of his finest albums to my desert island collection.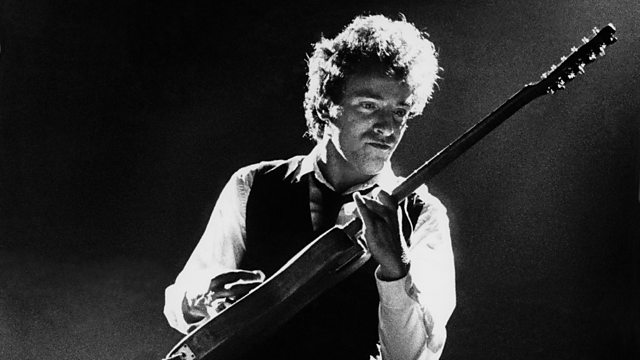 Darkness on the Edge of Town, released in June of 1978 after taking nearly a year to record, was the follow up to Born to Run. Due to Bruce's ongoing legal dispute with his former manager there was a three year gap between the two. However, this was an extremely productive time for him, as he wrote approximately 70 (!) songs. Some – Because the Night, Fire, Rendezvous, and others – were recorded by other artists. Others ended up on later releases of his such as The River, Tracks, and The Promise. Forty-plus years on, the songs from Darkness remain part of the core of his marathon live sets. Whether on the studio cuts or live versions, the songs from this album are filled with honesty, sincerity, and emotion.
I was not exposed to much of Bruce's music as a kid. The first Springsteen song I remember hearing was Hungry Heart. In 1984, with the heavy presence of Born in the U.S.A. in the Top 40 and on MTV, suddenly he was everywhere and I was becoming a fan. I had that album, but still had yet to explore his back catalog. Two years later when I was 15, he released the Live 1975-85 box set. A local radio station announced they would play all three albums from the box in their entirety over three consecutive nights, and I was ready with a pack of cheap TDK D-90's and an even cheaper stereo on which to record it. That was my "ah-ha" experience with Springsteen's music. I was mesmerized by all that music I'd not heard before, as well as his audiences' reactions to it. Badlands, Adam Raised a Cain, Candy's Room, Racing in the Street, Darkness on the Edge of Town…where had this music been all my life?
These songs, and all the other pre-Born in the U.S.A. tracks I heard through headphones with my radio reception fading in and out in the basement those three late November nights in 1986, caused my head to spin. This was at a time when, mixed in with my Beatles, Elton, U2, and R.E.M. albums, I also listened to the standard mid-80's Top 40 fare that average teen sheep like myself played. But after my Springsteen mini-immersion, Madonna, Wang Chung, and Cameo suddenly sounded even sillier than I already knew their music to be (yes, there was some good stuff on the airwaves back then, but you get the picture). Soon after, I made a bee-line to the nearest record store 30 miles away and purchased Born to Run and Darkness on the Edge of Town on LP. A couple years later The River and Nebraska were among the first CD's I owned. Greetings from Asbury Park, N.J. and The Wild, the Innocent & the E Street Shuffle weren't far behind. My conversion to Springsteen lifer status was complete.
-Stephen