July 1970: James Gang – James Gang Rides Again
It's the morning of Independence Day in the U.S.A., and it's such a strange time. I awoke early and stepped out on the back patio to visit with my wild friend Ginny for a bit and enjoy some fresh air before temps reach triple digits later today. I'm pondering what the Fourth of July means to me now with so much uncertainty in the air. It occurred to me that the best way for me to enjoy the day is to indulge in my favorite pastime, listening to music. Today, it's 100% American music: Gershwin, Copeland, Miles, Bird, Dylan, Willie, Muddy, Bruce…you get the picture.
I didn't have to put this post together today. James Gang's second album, James Gang Rides Again (a.k.a. Rides Again), was released some time in July of 1970, but I've not been able to locate the exact 50th anniversary among my usual sources. I doubt it was released on July 4, but today seems as good a day as any to celebrate it as the album is a quintessential early 1970's recording by a classic American band.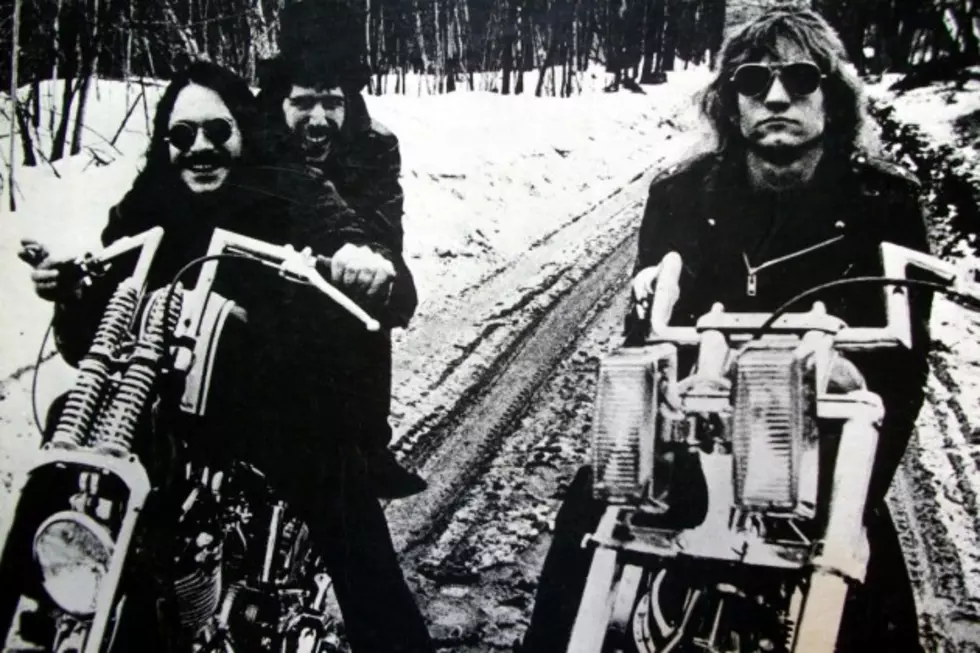 Rides Again contains one of the band's two hits, Funk #49 (the other being Walk Away), but every track on it is quality rock music that features Joe Walsh's fantastic, multidiminsional songwriting and musicianship, as well as that of bassist Dale Peters and drummer Jim Fox. Other than the driving Funk #49, my favorite song is The Bomber. The band ran into a bit of a legal dispute early on over this track due to its unauthorized inclusion of a rendition of Ravel's Boléro, which was removed after initial pressings. It was restored on recent CD releases.
The organ on Tend My Garden adds another diminsion to the band's sound that fades into the mellow folk of Garden Gate. This gives way to the country rock of There I Go Again which features Rusty Young on pedal steel guitar. Walsh has acknowledged that he only sang because the band needed a vocalist after their original singer quit the band and audiences responded well to him. He says he developed a lead/rhythm guitar style à la his friend Pete Townshend in order to allow him to sing effectively. As an aside, and speaking of Pete, James Gang opened for The Who on a few U.S. dates that same year.
*Non Music-Related Editorial Alert*
I've gone back and forth on whether or not to do this, but I feel the need to express something on this American holiday that's supposed to be a cause for celebration. I don't claim to speak for any other Americans who might read this, but to those of you from other parts of the planet who follow my blog, I'm disgusted with what is happening to my country right now and apologize for any negative impact it's having internationally. Whether it's Covid 19 or race-related, the absolute lack of leadership at the highest levels of my government and the shocking levels of selfishness and willful ignorance among much of the American population is sad and unnerving to me. This is not the United States I grew up in, nor is it representative of what I believe to be the vast majority of my fellow Americans.
Happy Fourth of July. Thanks for reading.
-Stephen
Tracklist
Side One:
Funk # 49
Asshtonpark
Woman
The Bomber: Closet Queen/Boléro/Cast Your Fate to the Wind
Side Two:
Tend My Garden
Garden Gate
There I Go Again
Thanks
Ashes the Rain and I
https://www.allmusic.com/album/rides-again-mw0000194237
https://en.wikipedia.org/wiki/James_Gang_Rides_Again
https://ultimateclassicrock.com/james-gang-interview-2015/