Syd Barrett – The Madcap Laughs
This is not an easy one to write about because it's not an easy album to listen to.  The Madcap Laughs, released on this date fifty years ago, is a portrait of someone in the throes of mental illness and not just some eccentric artist.  John and Yoko were merely crazy self-promoters by comparison.  However, I can say that having gained much more of an appreciation of the early Pink Floyd albums, I now find the first couple of Barrett releases to be much more interesting and enjoyable.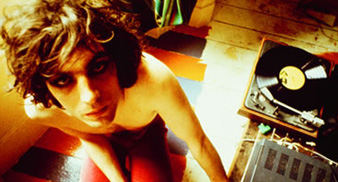 Recording began in May 1968 after Barrett was dismissed from Pink Floyd due to his increasingly erratic behavior, with most of the work being done April – July 1969.  From inception to release nearly two years later, five producers participated on the project over the span of recording dates, including Barrett, David Gilmour, Roger Waters, former Pink Floyd manager Peter Jenner, and Malcolm Jones.  In addition to Barrett and Gilmour, other musicians on The Madcap Laughs include Robert Wyatt, Hugh Hopper, and Mike Ratledge of Soft Machine, Jerry Shirley of Humble Pie, and Willie Wilson of Jokers Wild (Gilmour's band prior to joining Pink Floyd)
The first round of recording with Jenner ended in July '68 when Barrett departed and later ended up in a Cambridge psych ward.  He returned in early '69 to work with Jones that spring at Abbey Road.  This was a more productive stage, but it too fizzled due to Syd's unpredictable behavior.  Barrett didn't communicate effectively with the session players who had no choice but to lag behind Syd's playing with constant time and key changes.  By this time, Gilmour became interested in helping his friend in the studio.  He and Roger Waters took over in the booth in the summer of 1969 and hurriedly wrapped up recording, re-recording, and mixing.
Interestingly, it's the Jones produced tracks as opposed to those overseen by Gilmour and Waters that are arguably stronger – a term I use loosely.  Exceptions for me include songs Octopus, Golden Hair (with some lyrics taken from James Joyce), and Dark Globe, the latter described by AllMusic's Stewart Mason as "horrifying" and "a first person portrait of schizophrenia that's seemingly the most self-aware song this normally whimsical songwriter ever created."  Beginning with She Took a Long Cold Look, the final few tracks aren't as listenable to me, with Barrett seemingly sounding more incoherent as the album winds down.  But the final track, Late Night, is a clear reminder of Syd's isolation, and as such serves as a reminder of the album's purpose, suggests reviewer Ric Albano.  For the album cover, Barrett painted his bedroom floor orange and purple.  He was helped by his new acquaintance Evelyn Rose, the nude woman on the back of the sleeve.
The elements that make an album one listener's disaster – disjointed and out of tune playing, stream of consciousness lyrics, as well as unintelligible mumbling – are part of the charm for others, and there is plenty of charm for me on this recording.  I enjoy most of it in fact.  I like Barrett's vocals and most of the production on the record.  But I can't listen to it without the reminder of what was unfolding for him at the time.  Let it Be documented the disintegration of a band, but The Madcap Laughs documented the disintegration of a human being.  It was really happening.  The only other albums I can think of off the top of my head where the questionable mental state of the artist was on full display to this extent are Skip Spence's Oar and Big Star's Third/Sister Lovers.  Perhaps Captain Beefheart's Trout Mask Replica from the previous year as well.  For me there's no question as to Syd Barrett's talent and possible genius.  He simply didn't make it.
Tracklist
Side A:
Terrapin
No Good Trying
Love You
No Man's Land
Dark Globe
Here I Go
Side B:
Octopus
Golden Hair
Long Gone
She Took a Long Cold Look
Feel
If It's in You
Late Night
-Stephen
https://en.wikipedia.org/wiki/The_Madcap_Laughs
https://en.wikipedia.org/wiki/Syd_Barrett
https://www.allmusic.com/album/the-madcap-laughs-mw0000193903