8/7/70: Moody Blues – A Question of Balance
Jumping back across the pond after celebrating Canned Heat a few days ago, today's feature is the sixth album released by The Moody Blues, A Question of Balance, which was unveiled 50 years ago today.
Recorded between January and June of 1970, this release represents a concerted effort to strip down the production present on their previous works for the purpose of being able to perform its songs more effectively live on stage. This is a bit of a misnomer in the greater context of rock music at the time; it's really only stripped down compared to their own work. A Question of Balance is still quite lush with the Moody's trademark elements of Mellotron and layered vocals. There wasn't any question of balance when it came to everyone in this band having their moments to shine, which is one of the really cool features of the Moodys. There's no drop off in quality when the vocals shift from one member to another, or when the featured instrument switches from guitar to Mellotron or Moog to flute.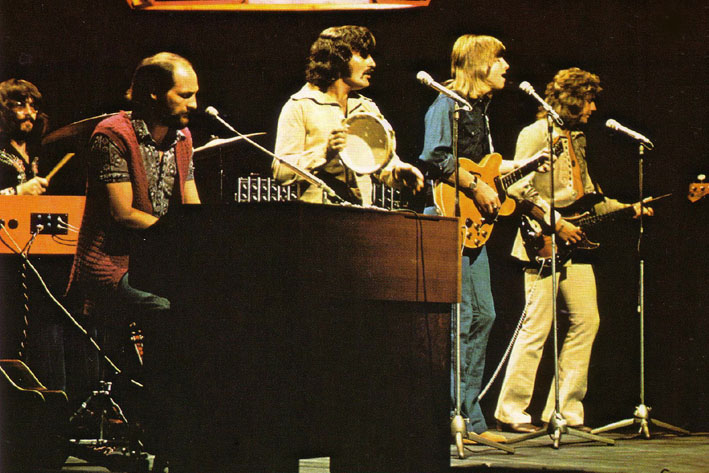 Its well known opening track, Question, was recorded months earlier. Coincidentally or not, if any song sounds a bit out of place on this release, stylistsically speaking, it's this one. Its Vietnam-era themed lyrics, however, were right on time. Album title implications aside, it might've fit better as the side two opener or as the album's closer. Yet Justin Hayward has said that the album flowed from that signature opener, so what do I know? As a single, it reached No. 2 in the U.K. and 21 in the U.S. The album received middling grades by some reviewers, but I listen to it within the context of their seven album stretch beginning with 1967's Days of Future Passed and ending with Seventh Sojourn in 1972. If that string of releases were one song, A Question of Balance is part of its solid bridge in the middle. I can't think of another band I think of in that frame of reference.
My favorite tracks on this release include Mike Pinder's How Is It (We Are Here), which has a subtle-yet-distorted guitar in the midst of its Mellotron-drenched middle. Ray Thomas's And the Tide Rushes In features beautiful finger picked guitar work. It's Up to You is perhaps the most straight-forward rock song on the album, and in a way is a nice changeup in the middle of the album. Dawning is the Day highlights Thomas's flute among acoustic guitars and Justin Hayward's tasty mandolin, and the closer, The Balance, has Mike Pinder's spoken-word harkening back to Days of Future Passed. As with The Moody Blues' other albums from this era, I enjoy A Question of Balance most of all as whole work. Any nitpicks aside, this album is, as John Mendelsohn referred to it in his Rolling Stone review, unexaggerably beautiful.
Tracklist
Side One:
Question
How Is It (We Are Here)
And the Tide Rushes In
Don't You Feel Small
Tortoise and the Hare
Side Two:
It's Up to You
Minstrel's Song
Dawning is the Day
Melancholy Man
The Balance
-Stephen
https://www.allmusic.com/album/a-question-of-balance-mw0000046519
https://ultimateclassicrock.com/moody-blues-question-of-balance/
http://web.archive.org/web/20080606000834/http://www.rollingstone.com/artists/themoodyblues/albums/album/184173/review/6068352/a_question_of_balance