I'm participating in an album draft with nine other bloggers, organized by Hanspostcard. There will be ten rounds, with draft order determined randomly by round. With the first pick in round four, I've selected the first Joni Mitchell album I ever owned.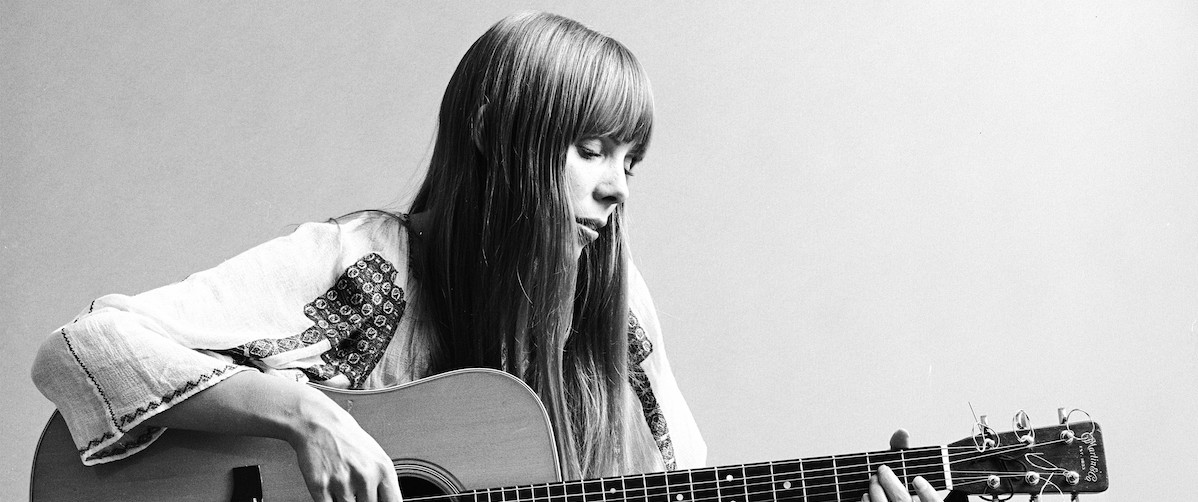 Judge: "Mr. blogger known as Introgroove, you are accused of musical acculturation in the first degree. How do you plead?" Me: "Guilty as charged." We're now into the fourth round, and I realize I could fill my top 50 – never mind 10 – desert island collection with albums from 1965-75 alone. I do have one "modern" album from the 90's in mind for later, yet even it's over a quarter century old. It seems strange when I think of it, but I guess I'm just an older soul. Always have been. My choice to kick off this round, for example, was released when I was not quite four months old: Joni Mitchell's Blue.
Other than the handful of Joni's singles I'd heard on the radio growing up – specifically Big Yellow Taxi, Raised on Robbery, Help Me, and Free Man in Paris – I didn't know anything about her albums other than that they were held in high esteem by the omniscient scribes at Rolling Stone and MOJO. So at the age of 21 I decided to investigate for myself. I was at Streetside Records one day and ran into an older acquaintance I knew to be knowledgeable about such matters, so I asked him where I should start with Joni Mitchell. Without hesitation he said Blue. I took it home, popped it into the changer, and never looked back. At the time I was in an obsessive Dylan and Neil Young self-education mode, and her music fit my schooling perfectly. These days, I don't try to categorize her. Especially not after gaining an appreciation for her later Hejira album.
But Blue? Almost everything I love about music from that era is encapsulated on this album: great songwriting, bare bones honest lyrics, a beautiful and unique voice, and unparalleled musicianship. Bob and probably even Neil couldn't touch her alternate tunings (if I were still categorizing her). But it's more than that. While the songs are mostly about Mitchell's relationships past and then-present, some with famous musicians, others not well known, the recordings capture the mood of 1971. That is, it was a come down. Joni didn't allot many words to political commentary, but in California she summed it up concisely: Reading the news and it sure looks bad, They won't give peace a chance, That was just a dream some of us had… There's a melancholy and resignation in those words and in her voice that can be found throughout the landscape of artists at the turn of the 1970's. It wasn't always bleak, but the 60's hangover was hard to avoid, as in the title track: Acid, booze, and ass, Needles, guns, and grass, Lots of laughs…
As we trudge through a summer of uncertainty and discontent, Blue maintains a contemporary feel. For me there's something visceral about Joni's music. As much as or more than other artists whom I admire but was born too late to listen to while they were in their prime, I feel like I was there when I listen to her. It's 1971, except I'm 23 years old. I'm lounging at some dingy outdoor cafe with a buddy who's just returned from Vietnam, unsure of what to do with his life. Return to school? Morocco sounds better. Or maybe the roles are reversed. Then again, maybe it's just 2020 and we're waist-deep in our own troubled times, but thinking about it in 50 year old terms makes it seem more palatable. Either way, Mitchell's music is deep but accessible. This and her other early albums earned Joni the well-intended accolade from various critics, "Best Female Songwriter/Musician," which rankled her and rightly so. She's one of the best, most innovative songwriters, singers, and musicians ever, male or female, period.
Tracklist
Side One:
All I Want
My Old Man
Little Green
Carey
Blue
Side Two:
California
This Flight Tonight
River
A Case of You
The Last Time I Saw Richard
-Stephen