10/2/70: Pink Floyd – Atom Heart Mother
It must be a mark of an extraordinary band to have created such a legendary collection of albums that noncompletists like myself actually make a point of trying to like the portions of their catalog that are almost universally disliked, or at least overlooked, including by the musicians themselves. Pink Floyd's Atom Heart Mother, released 50 years ago today, is one example.
Recorded at Abbey Road Studios, this was Pink Floyd's fifth release, and the follow up to the sprawling, disjointed double LP Ummagumma. Nick Deriso, in an ultimateclassicrock.com review, summed up the album rather concisely: "Pink Floyd's Atom Heart Mother marks the final signpost for a period of broad and sometimes aimless experimentation following the departure of Syd Barrett." One result was that it was also the final Floyd album produced by Norman Smith, as the band sought more control over their recording process. Nevertheless, it became the band's first number one album in the U.K., presumably due to their status as an an underground live act. Despite the initial commercial success, contemporary print reviews were mixed, and neither Roger Waters nor David Gilmour look back upon the album favorably.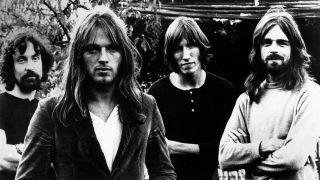 Pink Floyd were coming into their own in terms of expecting more artistic freedom, and this is represented on the album's jacket. The cover, designed by Hipgnosis (artist Storm Thorgerson drove out into the countryside and took a photo of the first cow he saw), is notable for being their first without their name or any photos of band members – a practice that they would continue throughout the 70's. The band's idea was to have a cover that didn't reinforce their placement in any particular genre or sub-genre, such as "space rock."
Recording presented difficulties due to restrictions placed on them at Abbey Road concerning new studio equipment, one result being that Mason and Waters had to play the entire 23 minute rhythm portion of the Atom Heart Mother suite – which consumes the entirety of side one – rather than create a loop. The suite, which I have yet to develop a taste for, is interesting for the fact that its orchestration, composed by Ron Geesin, takes the lead melody lines while the band provides the backing track – a reversal of the norm in pop/rock recording. As with Ummagumma, the second half of the album features tracks written by individual members Waters, Wright, and Gilmour before closing with the Alan's Psychedelic Breakfast suite. This latter track, with three different "segments," is really just their roadie Alan Styles talking about and consuming his breakfast. Frankly, this is treading into John and Yoko territory.
So where does this leave us? There are undoubtedly many fans who find every second of Atom Heart Mother to be among the greatest sounds ever put on vinyl, and more power to them. This is not a very accessible album to me, yet there are elements (even on side one) that I do enjoy which keep me returning from time to time to reevaluate. The easier solution, though, was to put the first three songs from side two on a playlist with some tracks from the first five albums (though I've grown to really like the entire Piper…, Saucerful…, and More albums). Their next release, Meddle, was the breakthrough. With Atom Heart Mother they were almost there.
Tracklist
Side One:
Atom Heart Mother: I. Father's Shout II. Breast Milky III. Mother Fore IV. Funky Dung V. Mind Your Throats Please VI. Remergence
Side Two:
If
Summer '68
Fat Old Sun
Alan's Psychedelic Breakfast: I. Rise and Shine II. Sunny Side Up III. Morning Glory
-Stephen
https://ultimateclassicrock.com/pink-floyd-atom-heart-mother/
https://www.allmusic.com/album/atom-heart-mother-mw0000195290
https://en.wikipedia.org/wiki/Atom_Heart_Mother