9/23/70: The Allman Brothers Band – Idlewild South
It hadn't occurred to me until reading a bit of background on this album just how pivotal it was in the development of the Allman Brothers Band. The group was simultaneously and constantly touring while ducking into studios when time permitted and, in a way, that was just as important an element of the album as these studio tracks themselves. The album was recorded mostly live during sessions which took place intermittently  over a five month period in NYC, Miami, and Macon, GA. Idlewild South, the band's second album, was released this day 50 years ago. Much of its contents would form part of the core of the band's live repertoire for years to come.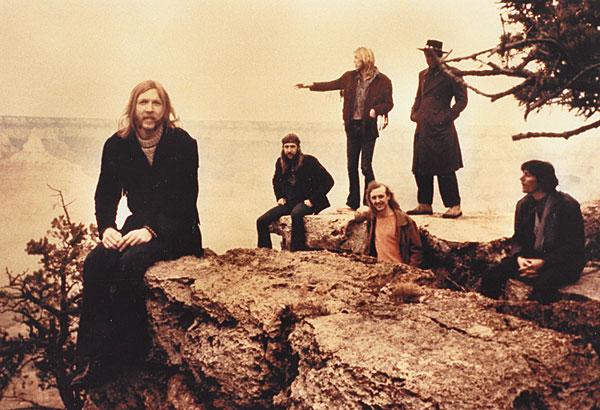 Though I've always liked the album opener, Dickey Betts' gospel-tinged Revival, lyrically speaking it's kind of atypical of this band, who weren't exactly a flower power group. Perhaps it's no coincidence then that the song was originally an instrumental. But that groove is infectious, and along with In Memory of Elizabeth Reed it brought Dickey Betts to the fore as a crucial songwriting contributor. The latter song was written for a woman of a different name who Betts was involved with (Boz Scaggs' girlfriend). Elizabeth Reed was a name Betts spotted on a headstone in the cemetery where the band liked to hang out and write.
The Willie Dixon track Hoochie Coochie Man features Berry Oakley's only vocal performance with the Allmans, sounding an awful lot like Johnny Winter. This one rocks harder than anything else on an album full of blazing guitar licks. Along with In Memory of Elizabeth Reed, Gregg's Midnight Rider is my favorite track on this record. Roadie Robert Kim Payne received a co-credit for a lyric assist. It was released as a single, but didn't fare well until recorded by others including Gregg on his 1973 solo album, Laid Back. I like this version as much as Gregg's solo take. Please Call Home features his typically soulful vocals, and should probably be a better known song.
Contemporary and retrospective reviews have always been quite positive, yet the album initially sold only slightly better than it's debut predecessor. The band would really make their name through relentless touring which, after this release, would lead to arguably their greatest album the following year, At Fillmore East.
Tracklist
Side One:
Revival
Don't Keep Me Wonderin'
Midnight Rider
In Memory of Elizabeth Reed
Side Two:
Hoochie Coochie Man
Please Call Home
Leave My Blues at Home
-Stephen
https://www.allmusic.com/album/idlewild-south-mw0000196446
https://en.wikipedia.org/wiki/Idlewild_South
https://ultimateclassicrock.com/allman-brothers-band-idlewild-south/